Scottish Dancing is really not that difficult to learn here are some useful Tips;
Dance Types: Reels & Jigs (fast tempo) & Strathspeys (slower tempo)
Positioning: Longwise Set; Men on Left Side facing Partner
(Up or Top of Set nearest to the Music)
Other Dances; Men have their Partner on their right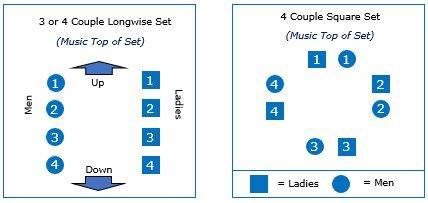 Dance Videos
The Scottish Country Dance Database is the ideal place for you to find a specific dance you want to learn. You need to know the correct full name of the dance to search.
To access the Scottish Country Dance Dictionary of videos and to find a dance (example "Good Hearted Glasgow" ) click here first then on the "G" . Scroll down to find the dance click to open selection of videos. The first one for "Good Hearted Glasgow" is a group with numbered tabards, which you may find useful. This can be a helpful way to learn a new dance, have fun and enjoy.
Dance Instructions and Videos
Strathspey Server – This is where you will find the Dance Class and Social Dance Lists. To take you to the Dance Lists page Click here where you need to first enter the "From Date" and then the "To Date" which should be the same.. This will open up a list for that date scroll down to find RSCDS Leicester Class or Dance (usually created by Margaret Spence) click to open the Dance List for that Class or Event. Then click on the dance where you have a choice of Cribs/Diagrams or Videos. (Note: cribs are the dance instructions- best to use this method first then there are the diagrams which are a symbol-based method to show a dance, for more advanced dancers to use).
To Print the List click "Cribs" just under the list Title and then Download PDF.